At Haas Machine we offer the customer a complete crankshaft service center. Our crankshaft specialists have at their disposal both a Schledum and a Storm Vulcan crankshaft grinder, machines with capacities from a small one cylinder lawn mower shaft up to a large industrial crankshaft. On a daily basis we grind stock gas and diesel cranks of all sizes and can grind crankshafts up to six feet in length and eight inches in stroke. This includes: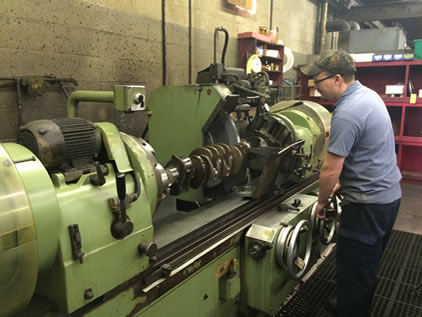 When performing these services we pride ourselves on duplicating factory radii and strokes, specifications that many other shops do not always maintain. In addition, our machinists can index grind performance shafts and stroke performance shafts. Our crankshaft department also offers crack detection using our Peterson blacklight crack detection system. We also utilize a Peterson crankshaft welder, allowing us to weld and repair either one journal or an entire shaft depending on the customer's needs. In addition to welding and grinding we can also straighten sprung and bent shafts in either of our push-pull or staight-pull type crankshaft straighteners.
Give us a call at (502) 456-1132 or e-mail us to fill out our work request form and let us do the job for you!
Click here for pictures of our crankshaft department
Click here for pictures of our rods department
Click below to check out our other services.