At Haas Machine Co. we've always prided ourselves on doing the highest quality machine work possible for all your everyday machine shop needs. But if you need antique work done on your engine parts, this is the shop for you.. We service antique and specialty parts from a wide variety of vehicles, including: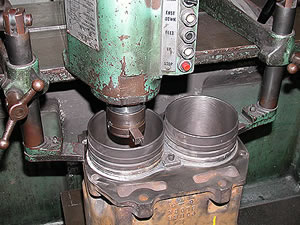 We specialize in salvaging and refurbishing old and severely damaged castings allowing you to make your engine and vehicle restoration numbers correct. Additionally, we offer a low compression, high performance solution that allows you to get the great performance you want for your restored engine while still using today's pump gas rather than the more expensive high octane gas.
Our expertise in this area is a byproduct of being in business for over 70 years. Due to the fact that many of our present machinists have been with the company for so long, they were able to work with former machinists who had been in our shop since the 1940's and passed on to them much of their knowledge and many of their skills.
We also do extensive work on industrial engines, which have continued to use old time flat head valves and babbit bearing technology long after it had been abandoned in passenger and light truck vehicles, giving even more understanding and experience with older equipment. Since we work on these types of engines everyday, working on an antique engine is not a challenge for us. We routinely work on engines from the early 1900's while many shops have no idea how to work on an engine that is more than 30 or 40 years old. We also understand that many antique castings are in very rough shape, as they have been exposed to the elements or sitting for many years, and we have saved many of these old parts.
To see a list of the engines we have performed restoration work on, click here.
We work with customers all over the continental United States. Give us a call at (502) 456-1132 or e-mail us to fill out our work request form and let us do the job for you!
Click here for pictures of our various antique work.